Though not especially productive in passing bills, the 116th Congress set new marks for social media use
The just-concluded 116th Congress wasn't especially productive in terms of the number of substantive bills it passed during its two years in office. But it set several records for lawmakers' use of social media, according to a new Pew Research Center analysis.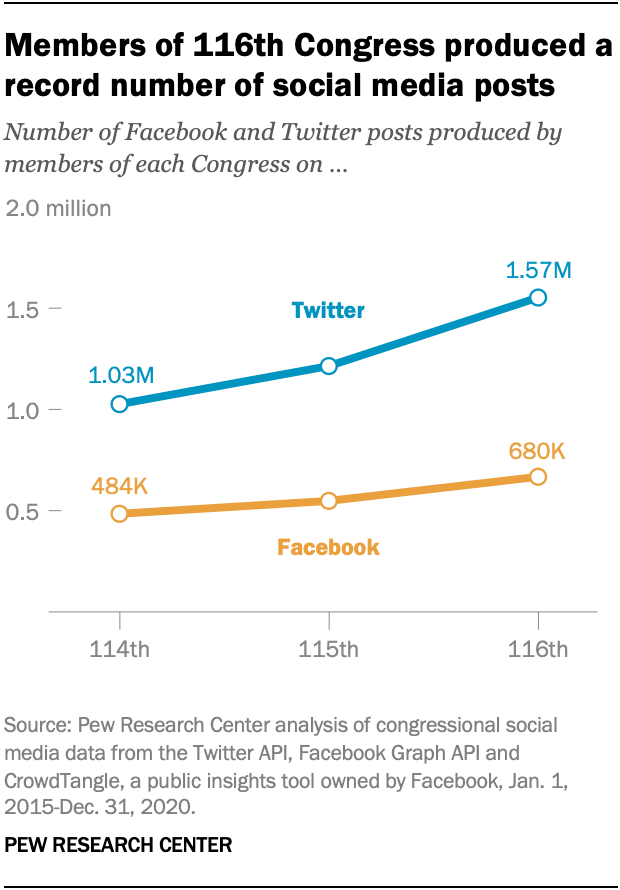 Members of 116th Congress produced a record number of social media posts Voting members of the 116th Congress collectively produced more than 2.2 million tweets and Facebook posts in 2019 and 2020. That means the median member of Congress produced more than 3,000 posts across their profiles on the two social media platforms during this span.
Read more here
Citation
For attribution, please cite this work as
Shah & Smith, "Sono Shah: Though not especially productive in passing bills, the 116th Congress set new marks for social media use", Fact Tank | Pew Research Center, 2021
BibTeX citation
@article{shah2021though,
  author = {Shah, Sono and Smith, Aaron},
  title = {Sono Shah: Though not especially productive in passing bills, the 116th Congress set new marks for social media use},
  journal = {Fact Tank | Pew Research Center},
  year = {2021},
  note = {https://www.pewresearch.org/fact-tank/2021/01/25/though-not-especially-productive-in-passing-bills-the-116th-congress-set-new-marks-for-social-media-use/}
}